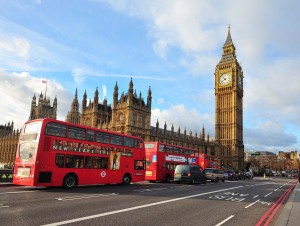 Are you looking for a genuine Cockney London voiceover for your project? Then you've come to the right place! I'm a professional voiceover artist living in SW London and a Londoner born and bred! I'll be happy to dial up or down a cockney accent, depending on how strong you need it to be.
I was born in Wimbledon, lived in North London for 14 years and now reside back in south west London with my family. I specialise in characters, accents and celebrity impressions but by far the majority of my work comes from companies and producers wanting my natural speaking voice.
Being a Londoner with a good ear for accents allows me to ramp up the 'geezer' in my voice or tone it down to suit a clients' needs! Sometimes I get asked to do a full on Cockney accent which is fine, but other times this can be a bit too much, so I can take the edge of it and give a more formal, natural read. Here's an example of radio adverts I have delivered in a London style. Some ads as you will hear, are much more overtly Cockney than others as it depended on the brief and direction from the individual producer.
What Will Having A London Accent Give To My Project?
When checking out voiceover sites and keeping my ears open when I hear adverts, I'm often amazed at the amount of people that try to 'do' a Cockney accent as they end up sounding like Dick Van Dyke in Mary Poppins! It can sound unnatural and affected and really does jump out at me as the voiceover artist attempts to deliver their version of what a London accent sounds like.
By taking the time to research a genuine Cockney London voiceover, you can be assured that I will work with you to get the right style and tone of delivery to suit your project. Whether you need a more formal sound, a relaxed, casual, chatty read or a full on geezer down the pub! I can give your script a genuine read that will capture what you have in mind for your voice.
So What Next?
Please do get in touch and I'll be happy to chat to you to find out exactly what you require and how I can help.
FAQ About My Radio Voiceover Services
Q: What am i getting for my money?
A: When you book me to voice for you, you're not just paying for my voiceover, but the reassurance that it will be broadcast quality with no erroneous room noises for you to have to worry about.
Q: Will I have to edit or do anything to the voiceover?
A: Unless you're a producer or prefer me to send you the raw file, you can be assured that I'll edit my read for you, so you receive a finished, high quality file.
Q: How long will my voiceover take?
A: I pride myself on a fast turnaround and will always endeavour to send you back your file within 24 hours.
Q: I'm not entirely sure how to explain the voice, character or style I need, can you help?
A: Of course! I'm more than happy to chat over the phone with you your requirements and won't hit record until we're both happy that I'll be voicing in the style that suits your read or character.
Q: Can I be directed during the recording?
A: Yes! If you prefer to listen in to the recording process and direct me, then I'm available on Skype, ISDN, ipDTL and Source Connect. I'm also happy to travel to studios for sessions.
Q: Do you charge for revisions?
A: Any mistakes made by myself will be corrected free of charge. Any script changes that occur after I have sent my recording will have to be charged. The fee will depend on the length of the read and number of changes.
Q: What are you rates for radio adverts?
A: In the UK, I work to the latest Equity rate card. If your commercial is for transmission abroad, please let me know all the information, so I can quote accurately.
Q: What are your payment terms?
A: Upon receiving your voiceover, you'll also receive my invoice. My terms are 30 days net and all my payment are on the bottom and as well as cheque and direct bank transfer, I can also be paid via Paypal.