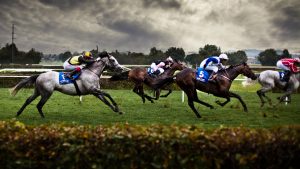 As a professional voiceover artist and impressionist, one style of I get asked to deliver regularly is a sports commentator. I've played football commentators for a wide selection of adverts on TV and radio, including the 118 118 TV adverts, which were a lot of fun to voice! Another style that's a lot of fun to deliver is a horse racing commentator voice.
Horse Racing Commentator Voice
When you think of a horse racing commentator, if you're of a certain age then you'll remember the commentaries of the late great Peter O'Sullevan, or Irishman Des Scahill. They started off at a slow and relaxed pace, setting the scene and describing the early stages of the race. When the race gathered steam and neared it's climax, so did their voices! They grew more and more excited and animated until the horses reached the finishing line, when they were at their fever pitch; often yelling at the top of their voices, creating the most incredible excitement and tension until the race was over and the victorious horse had won.
My Horse Racing Commentator
Here's an example of my horse acing commentator, in the style of Peter O'Sullevan.
This one was a finalist at the VOX Voice Awards 2021. It was for ASDA in-store radio, for Budweiser beer
And an in-store advert for ASDA supermarkets, advertising Cadburys chocolates.
If you require a horse racing commentator, then I'll be happy to help. This is just one style I am able to deliver. If you require a more natural tone, then of course I'll be happy to tailor my delivery to suit your needs. Please get in touch and let me know what you require.
I'm passionate about delivering the very best voiceover and working with clients to ensure that they receive the style of voice that best represents their brand. If you need me to demo for you, I'll be more than happy to read for you and if you need characters, then get in touch and we can discuss what you have in mind.

FAQ About My TV Commercial Voiceover Service
Q: What am i getting for my money?
A: When you book me to voice for you, you're not just paying for my voiceover, but the reassurance that it will be broadcast quality with no erroneous room noises for you to have to worry about.
Q: Will I have to edit or do anything to the voiceover?
A: Unless you're a producer or prefer me to send you the raw file, you can be assured that I'll edit my read for you, so you receive a finished, high quality file.
Q: How long will my voiceover take?
A: I pride myself on a fast turnaround and will always endeavour to send you back your file within 24 hours.
Q: I'm not entirely sure how to explain the voice, character or style I need, can you help?
A: Of course! I'm more than happy to chat over the phone with you your requirements and won't hit record until we're both happy that I'll be voicing in the style that suits your read or character.
Q: Can I be directed during the recording?
A: Yes! If you prefer to listen in to the recording process and direct me, then I'm available on Skype, ISDN, ipDTL and Source Connect. I'm also happy to travel to studios for sessions.
Q: Do you charge for revisions?
A: Any mistakes made by myself will be corrected free of charge. Any script changes that occur after I have sent my recording will have to be charged. The fee will depend on the length of the read and number of changes.
Q: What are your charges?
A: If you are buying air time in the UK, then you will know the TVRs. When you give me that information, I'll be happy to quote accurately for you. Any foreign TV commercials will be subject to the international rates on www.usefee.tv
Q: What are your payment terms?
A: Upon receiving your voiceover, you'll also receive my invoice. My terms are 30 days net and all my payment are on the bottom and as well as cheque and direct bank transfer, I can also be paid via Paypal.