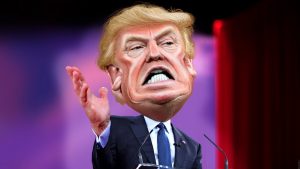 What can we say about Donald Trump eh? Whatever your thoughts on him politically, he's without doubt one of the biggest characters in popular culture and he's ensured that his legacy will go down in the history books, perhaps for the wrong reasons! Are you looking for a Donald Trump Impressionist?
Trump's Voice
A native New Yorker, Donald Trump has a distinctive New York accent and a very calm, measured and unperturbed way of speaking. His speech is slow and at times laboured, especially when giving addressing his loyal supporters. He has a habit of repeating phrases at the end of his sentences in order to ram home a point "not good, not good" or "fake news, fake news." He'll single out a guy in the crowd at one of his rallies "he knows… he knows!"
Trump's Mannerisms
Donald has a habit of forming circles with his second finger and thumb, which he points into the air as if to accentuate a point. He also plays an imaginary accordion as he speaks, moving his arms inwards and outwards! He'll pause mid sentence and look up into the air as if he's searching the heavens for a killer word or phrase in order to make his point and he takes deep, audible breaths between sentences. He also has a subtle shoulder movement, where he tenses and moves one shoulder backwards. This is often done as he leans on his lecture, when making a speech.

Donald Trump Impressionist
As a voiceover artist and impressionist, I'm contacted by tv and radio producers to deliver my impression of Donald Trump, for radio adverts and promos, web videos and more. Here are a few examples:
Here's a promo for The Stephen Nolan Radio Show on BBC Radio Ulster.
…and a promo for Signal Radio
If you're looking for a Donald Trump impersonator and require an bespoke impression, please do get in touch and let me know how I can help you.
FAQ About My Voiceover Services
Q: What am i getting for my money?
A: When you book me to voice for you, you're not just paying for my voiceover, but the reassurance that it will be broadcast quality with no erroneous room noises for you to have to worry about.
Q: Will I have to edit or do anything to the voiceover?
A: Unless you're a producer or prefer me to send you the raw file, you can be assured that I'll edit my read for you, so you receive a finished, high quality file.
Q: How long will my voiceover take?
A: I pride myself on a fast turnaround and will always endeavour to send you back your file within 24 hours.
Q: I'm not entirely sure how to explain the voice, character or style I need, can you help?
A: Of course! I'm more than happy to chat over the phone with you your requirements and won't hit record until we're both happy that I'll be voicing in the style that suits your read or character.
Q: Can I be directed during the recording?
A: Yes! If you prefer to listen in to the recording process and direct me, then I'm available on Skype, ISDN, ipDTL and Source Connect. I'm also happy to travel to studios for sessions.
Q: Do you charge for revisions?
A: Any mistakes made by myself will be corrected free of charge. Any script changes that occur after I have sent my recording will have to be charged. The fee will depend on the length of the read and number of changes.
Q: What are you rates for radio adverts?
A: In the UK, I work to the latest Equity rate card. If your commercial is for transmission abroad, please let me know all the information, so I can quote accurately.
Q: What are your payment terms?
A: Upon receiving your voiceover, you'll also receive my invoice. My terms are 30 days net and all my payment are on the bottom and as well as cheque and direct bank transfer, I can also be paid via Paypal.