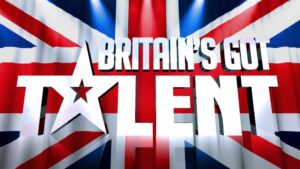 I'm a voiceover artist and impressionist and at the end of last summer I was approached to audition for Britain's Got Talent to do do impressions after having seen my How To Do Celebrity Impressions video I put up on YouTube a couple of years back. Now it's all very well doing this in the privacy of my own voiceover booth, but I wasn't an entertainer and didn't have an act, so the thought of being on a stage and performing in front of people scared the sh… hell out of me!
Auditions
There were no shortcuts! In my very first audition when I was backstage waiting to go on I was sick with nerves, I mean REALLY sick with nerves. I was shaking! The announcer introduced me and I walked out on stage and approached a microphone in its stand. Out in front of me was an audience, an actual audience and bright lights! I didn't know what to do with the mic, so I just left it in its stand and started my act. I got through it and there were some laughs in places and none in others, it was all very surreal. I picked up my coat, thanked a few people and left.
Next!
A little while later I received a call from Britain's Got Talent saying that they loved the act and would I like to audition in front of David Walliams, Amanda Holden, Alesha Dixon and Simon Cowell. *gulp. No pressure! What had I done? Was I nuts? Going on tv with a act I'd performed once in front of millions of people… and Simon bloody Cowell? I said that I'd have to think about it as I was worried that as I'm a voiceover artist and it's what I do for a living, the jeopardy would be too great and it could have serious repercussions on my voice acting career. After a conversation with my wife who saw sense and said that this was an opportunity I just couldn't turn down, I accepted the invitation and began writing and practicing.
The Big Day!
The day came and I went up to in The Dominion Theatre in London, where We Will Rock You stood for years. I was greeted by researchers, signed in and was told that I would be on in the second session which was to take place later that afternoon. There was filming to be done, interviews and fun and games for ITV2 Britain's Got More Talent with Stephen Mulhern!
5 o'clock came, the audience were in and seated and my time had come, I was the second act on. I shook Ant and Dec's hand and walked out on stage and approached the star right in the middle. Amanda Holden chatted to me and put me at ease, we laughed and joked about how I voiced the Iams cat food commercials and she voiced a rival dog food brand! She was lovely. I paused, steeled myself… took a deep breath and began my routine. I went from voice to voice and was getting laughs, big laughs! When it came to my Declan Donnelly impression, he walked out on stage (which I suspected he might do!) and joined in the fun. I caught simon Cowell in the corner of my eye and he was clearly laughing out loud, which must have been a good sign! I got to the end of the act and in a Boris Johnson voice, yelled "good night!"
Was it worth it?
The audience cheered and roared and all 4 judges rose to their feet, it was surreal. My heart was pounding and the relief was like a huge weight had been lifted from my shoulders. I was buzzing and the adrenaline surging through me was nothing I've ever experienced before. The comments I received were incredible and I could not have wished for more. Taking the plunge and auditioning for Britain's Got Talent was well worth it, despite the anxiety! This was the maddest and riskiest thing I've ever done, but sometimes in life you have to seize opportunities, go for it and have courage in your convictions.
The routine
If you would like to know more about my VoiceOver services, or if you would like your very own celebrity impression, just drop me a line and let me know how I can help.

FAQ About My Voiceover Services
Q: What am i getting for my money?
A: When you book me to voice for you, you're not just paying for my voiceover, but the reassurance that it will be broadcast quality with no erroneous room noises for you to have to worry about.
Q: Will I have to edit or do anything to the voiceover?
A: Unless you're a producer or prefer me to send you the raw file, you can be assured that I'll edit my read for you, so you receive a finished, high quality file.
Q: How long will my voiceover take?
A: I pride myself on a fast turnaround and will always endeavour to send you back your file within 24 hours.
Q: I'm not entirely sure how to explain the voice, character or style I need, can you help?
A: Of course! I'm more than happy to chat over the phone with you your requirements and won't hit record until we're both happy that I'll be voicing in the style that suits your read or character.
Q: Can I be directed during the recording?
A: Yes! If you prefer to listen in to the recording process and direct me, then I'm available on Skype, ISDN, ipDTL and Source Connect. I'm also happy to travel to studios for sessions.
Q: Do you charge for revisions?
A: Any mistakes made by myself will be corrected free of charge. Any script changes that occur after I have sent my recording will have to be charged. The fee will depend on the length of the read and number of changes.
Q: What are you rates for radio adverts?
A: In the UK, I work to the latest Equity rate card. If your commercial is for transmission abroad, please let me know all the information, so I can quote accurately.
Q: What are your payment terms?
A: Upon receiving your voiceover, you'll also receive my invoice. My terms are 30 days net and all my payment details are on the bottom.
As well as bank transfer, I can also be paid via Paypal, which will incur a 6% charge to cover their fees.