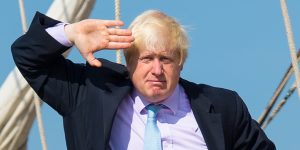 As an impressionist, you're always worried when a celebrity or public figure you impersonate disappears, changes jobs or leaves the country! When Boris Johnson's second term as London Mayor came to an end, I wondered what would happen to him and if he would disappear into the political wilderness! Thankfully that didn't happen and he came back stronger, as Foreign Secretary! He's without the gift that keeps on giving and I'm contacted regularly by people and companies requesting a Boris Johnson impression!
Foreign Secretary
Boris' fame rose even higher after leaving the Mayoral office in 2016 as he went on to lead the Brexit campaign to leave Europe, he's never off our television screens! After his victory in the referendum, our newly elected Prime Minister Theresa May made him Foreign Secretary. Boris was back!
Boris' Speaking Manner
Boris Johnson is one of the most instantly recognisable figures in Britain and has a very distinctive voice. He was schooled in Eton and Oxford and has what could be described as a well-spoken, upper class voice. His tone is rich and deep and in order to impersonate Boris, you have to talk at varying speeds, pausing to contemplate, while accentuating any random word in your sentence! He has an interesting was of saying his S's which is rather interesting and I've taken time to study the way his mouth and teeth land when he makes his S sounds.
Here's my Boris Johnson impersonation. I chose two of his funniest quotes – he's always good value!
I recently tested out how realistic my impression was by prank-calling a hairdresser, pretending to be Boris! They were totally taken in and the results were hilarious. See for yourself in this video I made of the call.
A corporate video for Lawbite about SMEs
If you need a Boris Johnson impression or soundalike, please do let me know and I'll be happy to help you.
FAQ About My Voiceover Services
Q: What am i getting for my money?
A: When you book me to voice for you, you're not just paying for my voiceover, but the reassurance that it will be broadcast quality with no erroneous room noises for you to have to worry about.
Q: Will I have to edit or do anything to the voiceover?
A: Unless you're a producer or prefer me to send you the raw file, you can be assured that I'll edit my read for you, so you receive a finished, high quality file.
Q: How long will my voiceover take?
A: I pride myself on a fast turnaround and will always endeavour to send you back your file within 24 hours.
Q: I'm not entirely sure how to explain the voice, character or style I need, can you help?
A: Of course! I'm more than happy to chat over the phone with you your requirements and won't hit record until we're both happy that I'll be voicing in the style that suits your read or character.
Q: Can I be directed during the recording?
A: Yes! If you prefer to listen in to the recording process and direct me, then I'm available on Skype, ISDN, ipDTL and Source Connect. I'm also happy to travel to studios for sessions.
Q: Do you charge for revisions?
A: Any mistakes made by myself will be corrected free of charge. Any script changes that occur after I have sent my recording will have to be charged. The fee will depend on the length of the read and number of changes.
Q: What are you rates for radio adverts?
A: In the UK, I work to the latest Equity rate card. If your commercial is for transmission abroad, please let me know all the information, so I can quote accurately.
Q: What are your payment terms?
A: Upon receiving your voiceover, you'll also receive my invoice. My terms are 30 days net and all my payment are on the bottom and as well as cheque and direct bank transfer, I can also be paid via Paypal.