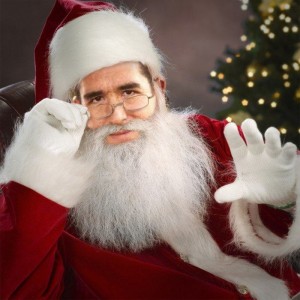 Are you looking for a fantastic Father Christmas/Santa voice? It's that time of year again, as we gear up for that mountain of shopping, family, friends, arguments about what to watch on telly, turkey, booze, indigestion and tonnes of presents that will more than likely end up at the back of the cupboard! Christmas is nearly upon us, are you ready? I know one person that's getting all geared up in preparation for Christmas… Santa!!
The Voice Of Santa
When you think of Christmas, one of the first people that springs to mind in good old Father Christmas! As a voiceover artist specialising in characters, accents and celebrity impressions, Christmas is a busy time and I'm regularly asked to voice Santa, whether it's for a radio advert, web video, presentation or animation.
I've played Santa for lots of satisfied clients around the world and was honoured to be asked by UNICEF to be their Father Christmas, for their online children's game for the past two years. I've also had the privilege of voicing Santa for the BBC, for their online CBeebies drawing game and BBC Radio Wales.
"That's the Santa I've been searching for for the last five years!"
Editor, the Wynne Evans breakfast show, BBC Radio Wales
He's always great fun to do impersonate and there's nothing I like more than to put on my bobbly hat, red costume and big black boots, before heading off into the booth to record your Father Christmas voice… but don't tell the children ;- )
Cartoon Santa
This is a nice little cartoon short I voiced as Father Christmas, for RTE Kids, in Ireland. In this animation, Santa is terrorised by a little girl called Grace. Poor Santa!
I was honoured to voice Santa for UNICEF for their Christmas campaigns.
Audio Examples
Here's an example of what Santa can deliver for you:
If you need elves, snowmen, reindeer or other voices, here's a brand new Christmas mix, featured lots of fun Christmas characters and a different take on Santa!
Please do get in touch and I'll be happy to help you get the perfect Santa read of your project.
I'm passionate about delivering the very best voiceover and working with clients to ensure that they receive the style of voice that best represents their brand. If you need me to demo for you, I'll be more than happy to read for you and if you need characters, then get in touch and we can discuss what you have in mind.

FAQ About My TV Commercial Voiceover Service
Q: What am i getting for my money?
A: When you book me to voice for you, you're not just paying for my voiceover, but the reassurance that it will be broadcast quality with no erroneous room noises for you to have to worry about.
Q: Will I have to edit or do anything to the voiceover?
A: Unless you're a producer or prefer me to send you the raw file, you can be assured that I'll edit my read for you, so you receive a finished, high quality file.
Q: How long will my voiceover take?
A: I pride myself on a fast turnaround and will always endeavour to send you back your file within 24 hours.
Q: I'm not entirely sure how to explain the voice, character or style I need, can you help?
A: Of course! I'm more than happy to chat over the phone with you your requirements and won't hit record until we're both happy that I'll be voicing in the style that suits your read or character.
Q: Can I be directed during the recording?
A: Yes! If you prefer to listen in to the recording process and direct me, then I'm available on Skype, ISDN, ipDTL and Source Connect. I'm also happy to travel to studios for sessions.
Q: Do you charge for revisions?
A: Any mistakes made by myself will be corrected free of charge. Any script changes that occur after I have sent my recording will have to be charged. The fee will depend on the length of the read and number of changes.
Q: What are your payment terms?
A: Upon receiving your voiceover, I'll also send you your invoice. My terms are 30 days net and all my bank and payment details are on the bottom. I can also be paid via Paypal and I politely request +6% to cover their fees.