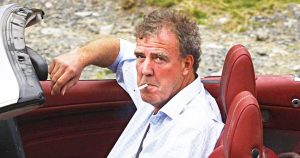 As a voiceover artist specialising in characters, accents and impressions, one of the most common celebrities I get asked to impersonate is the new host of Who Wants To Be A Millionaire and ex BBC Top Gear Presenter, Jeremy Clarkson. Are you looking for a Jeremy Clarkson Impression?!
As one of the most recognisable voices in the media, you can't fail to listen when you hear his voice, regardless of if you love or loathe him. He has a very distinctive way of speaking, with his snarky attitude and trademark pauses and is instantly recognisable.
After years of success on the BBC show Top Gear which was shown all over the world, Jeremy had a break. He's now back and hosting the ITV hit quiz show Who Wants To Be A Millionaire.
If your business is looking to apply the tones of Jeremy Clarkson to a promotional video or advert but your budget doesn't stretch to the hiring of major BBC celebrities, perhaps I can help… and I don't punch!
Jeremy Clarkson Sound-a-Like Voice Over
For a fraction of the cost (and hassle) of hiring the real Jeremy Clarkson, I can produce a voice over impression for any promotional media and have done for many happy clients all over the world. Here's a selection of examples of my Jeremy Clarkson impersonation, starting my audition for Britain's Got Talent, which the judges loved!
Here's a fun Top Gear Parody!
This is an ad I voiced for a radio station in Switzerland who wanted a Jeremy Clarkson voice for a BMW promotion
A corporate video for Lawbite, about SMEs
Apologies. This one's a bit sweary!
So if you're looking for a highly distinctive and recognisable voice over for your business media, whether you're selling cars, car parts, a garage or whatever, then do let me know what you need and I'll happily provide a quote which I guarantee will be substantially less than the real Jeremy Clarkson!
Alternatively, if you're interested in other celebrity voice over impressions, check out my sound board.
FAQ About My Voiceover Services
Q: What am i getting for my money?
A: When you book me to voice for you, you're not just paying for my voiceover, but the reassurance that it will be broadcast quality with no erroneous room noises for you to have to worry about.
Q: Will I have to edit or do anything to the voiceover?
A: Unless you're a producer or prefer me to send you the raw file, you can be assured that I'll edit my read for you, so you receive a finished, high quality file.
Q: How long will my voiceover take?
A: I pride myself on a fast turnaround and will always endeavour to send you back your file within 24 hours.
Q: I'm not entirely sure how to explain the voice, character or style I need, can you help?
A: Of course! I'm more than happy to chat over the phone with you your requirements and won't hit record until we're both happy that I'll be voicing in the style that suits your read or character.
Q: Can I be directed during the recording?
A: Yes! If you prefer to listen in to the recording process and direct me, then I'm available on Skype, ISDN, ipDTL and Source Connect. I'm also happy to travel to studios for sessions.
Q: Do you charge for revisions?
A: Any mistakes made by myself will be corrected free of charge. Any script changes that occur after I have sent my recording will have to be charged. The fee will depend on the length of the read and number of changes.
Q: What are you rates for radio adverts?
A: In the UK, I work to the latest Equity rate card. If your commercial is for transmission abroad, please let me know all the information, so I can quote accurately.
Q: What are your payment terms?
A: Upon receiving your voiceover, you'll also receive my invoice. My terms are 30 days net and all my payment are on the bottom and as well as cheque and direct bank transfer, I can also be paid via Paypal.