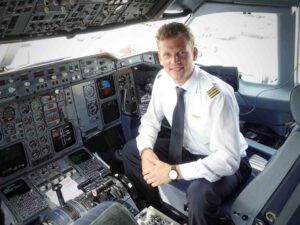 As a voiceover artist, one style that's often requested, is an authentic sounding airline pilot. As well as conversational or traditional voiceover style reads, I'm contacted by producers to voice in a wide variety of characters. When a script comes in, advertising airlines or holidays, they often require a pilot!
Airline Pilot Style
When you think of sitting on a plane, waiting for it to take you to your holiday destination, you can almost hear the captain welcoming you on board! He will invariably have a friendly, clear and well-spoken voice, reassuring you and putting you at ease before take-off. I've voiced several tv and radio adverts in this style and below are a couple of examples, starting with a tv commercial for cheap flights.co.uk that was broadcast on ITV.
Here's a radio advert for Wizz Air, that was played on Heart and Smooth.
What next?
If you're looking for an airline pilot style voice, please do get in touch and let me know how I can help.